Formation aux gestes techniques et aux processus complexes
#btp #industrie #hse #medical
Nous bâtissons les formations du futur
Pour répondre à vos enjeux de croissance, de recrutement, de départs à la retraite, de renouvellement des générations et de capitalisation du savoir faire et du transfert des compétences.

Partenaires & Conseil
Rendre les solutions de formation technique à distance ou mixte plus efficaces pour les entreprises et ludifier vos stratégies Blended Learning.

Une offre ciblée
Dédiée aux entreprises du BTP, de l'Industrie et du secteur Médical et où les enjeux acculturation au digital et d'individualisation des formations sont importants.

Une technologie unique
et brevetée
L'interactivité au cœur du processus: grace au Multiview; l'apprenant spatialise le mouvement, les gestes techniques et les processus complexes ous tous les angle ne même temps.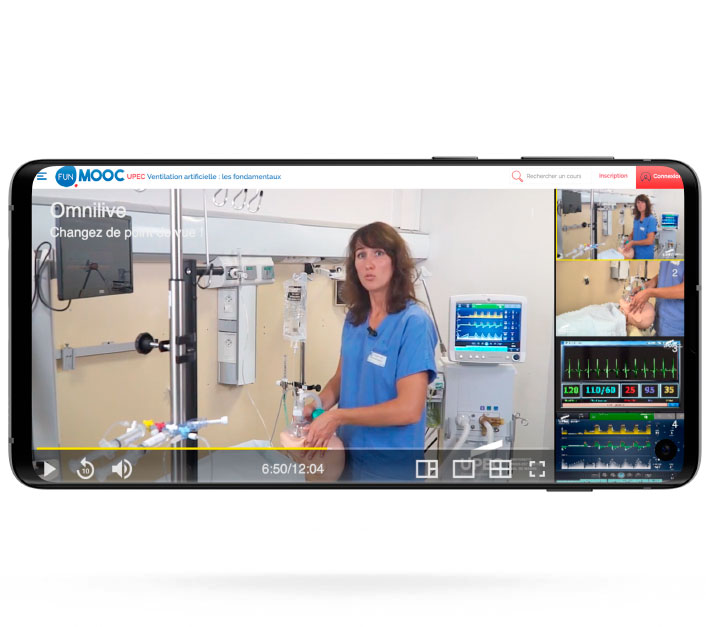 Former les soignants pendant la pandémie
Le cas de l'APHP - UPEC
Quatre angles de vues dans un seul lecteur interactif pour capter chaque parcours utilisateur et individualier les parcours.
Vidéos sur la ventilation artificielle et les soins critiques COVID-19 intégrer dans un seule formation.
Plus de 100.000 incrits à ce jour.
Disponible en multilangues dans plus de 80 pays.
" Un apprenant intègre 80% de ce qu'il expérimente lui-même "
et seulement "10% de ce qu'il lit, 20% de ce qu'il entend, 30% de ce qu'il voit, 50% de ce qu'il voit et entend" - William Glasser - Every Student can successed
Pour répondre aux enjeux pédagogiques spécifiques des gestes techniques

Apprentisage en simulation
Spatialiser le geste technique et la complexité des process

"Troisième œil"
Apprendre à être en alerte sur des éléments divers et simultanées et autant d'autres paramètres situationnels.

Comprendre avant de pratiquer
Saisir la relation "Acteur > Outil > Environement", c'est-à-dire à comprendre l'expertise en se plaçant du point de vue de l'acteur.

Retrouvez l'immerssion
En complément de formation en simulateur pour un service d'assistance respiratoire d'urgence, l'intubation d'un patient doit être un geste « précis » où l'observation sous tous les angles est primordiale. Le personnel retrouve l'immersion de la formation grâce au Multiview.

Savoir accèder à toute les informations
Dans un service de pilotage d'un automate complexe, l'ensemble des écrans de monitoring doivent être « contrôlés » en même temps pour satisfaire les contraintes fonctionnelles de la tâche à réaliser.

Réagir et levée les doutes
Le pilotage d'une grue de chantier nécessite de « voir » et « surveiller » de concert des champs visible et invisible depuis une cabine d'où le geste est piloté.
S'adapter aux profils des apprenants
A small river named Duden flows by their place and supplies it with the necessary regelialia. It is a paradise printing and typesetting industry.

Faciliter sa propre compréhension
Avec le Multiew Omnilive, l'apprenant de se « PLACER OÙ IL LE SOUHAITE » pour observer la chaîne opératoire et les positions séquentielles du geste technique.

Apprendre naturellement
La technologie Omnilive Multiview vous permet l'usage de la vidéo dans vos cycles de formation sans investissement, matériel ou nécessite de déplacement.

Collecter des données individualisée
Fournir en vision simultanée DIFFERENTS SUPPORTS PEDAGOGIQUES : texte, image, mise en situation, interlocuteur...
Contactez-nous
Prenez rendez-vous avec notre équipe directement. Avec nos partenaires pédagogiques et technologiques, nous sommes à l'écoute de votre projet.